HOPE means even more,
when it's shared.
Having HOPE isn't something we do…. It's something we have.
As Christians, we believe and know that regardless of the circumstances, a future of possibilities is on the horizon. Hope appears in many ways as it shows up differently in our life experiences. One thing for sure, Hope is expectant. It is courageous and joyful. It is based on love, hope and faithfulness in a God that promises. He is not asking us to find it, create it on our own. Hope is rooted in God himself. He is hope.
Without HOPE, nothing makes sense
Having HOPE creates a desire and a belief that things will change. Hope brings out possibilities in ourselves and others. It makes a dream worth chasing.
Challenging situations are more tolerable when we have the drive to look at what could be. HOPE gives us a kick in the butt to look ahead and keep our eye on the prize. We need to share HOPE with those who believe but also look for people who need HOPE. HOPE means even more, when it's shared. It brings family, friends and even strangers together.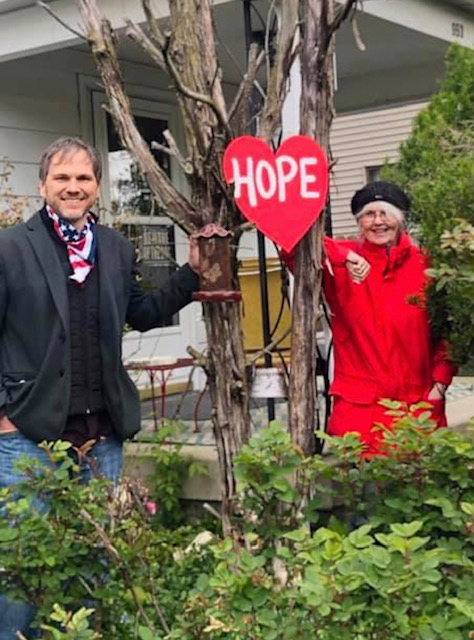 Make a difference! Spread the message of HOPE. Celebrate, motivate, or share just because!
Consider using the HOPE hearts for a fundraiser for any organization, team, school, or church group. 
Deliver a lawn message or a pick-me-up message to someone in need. 
Hearts can be logoed with your organization's logo or message.

 

(quantities and ordering time to be considered.
The HOPE Hearts are weather-resistant, made from polyethylene.

   
HOPE Hearts measure 16×16 and are sold 10 hearts to a pack.
Hearts can be used as oversized cards.

 

Sign your name or leave a message on the heart using a waterproof marker.

 

(suggested for indoor use)
Hearts can be nailed or drilled to a fixture without any wear or tear on the HOPE heart.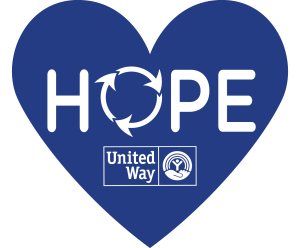 In April of 2020, there was a desire to spread HOPE amongst the chaos and concern around the Covid pandemic, societal unrest and the need to stay connected. 
It was essential to emphasize the goodness in others, regardless of differences. It was about joining forces with others to spread HOPE by remaining united, one red heart at a time.
The effort began with the wooden HOPE hearts. From the garage, we cut, painted and shared the wooden hearts, two at a time. The purchaser received TWO hearts, one for the themselves and one to share with a friend, family, business or even a stranger.
As the demand for the HOPE hearts increased, production was moved to a local US manufacturing plant and a durable, polyethylene heart was created. Hope Hearts were being ordered and shipped to purchasers around the country!
With much unrest and hopelessness existing today, the desire to share and spread hope continues today.  Over time the HOPE hearts have been used for fundraisers, church mission projects, hospital room pick-me-up, welcome home lawn signs, and silent initiatives to deliver or place a HOPE heart in an unexpected location.
Be a part of the initiative to help spread HOPE in your corner of the world.