There is a reason you meet people. Either you need them to change your life or perhaps you will change theirs.

— The Joy of Servant Motherhood - One Woman's Journey —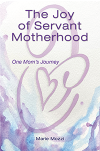 As a parent, you play a critical role in guiding your children through the early stages of life. But what does it mean to be an effective leader as a parent? 
In The Joy of Servant Motherhood: One Mom's Journey, author Marie Mozzi shares her experiences raising a child as a single mom with faith and intention and choosing to lead with a servant's heart.
review
Finally able to start reading your very special book. Wish it had been around 63 years ago! Every word so thoughtful and on target. Reading On!
Meet Marie MOZZI
MENTORING AND EMPOWERING
Leading from The Heart.
Marie leads with a servant's heart and is an unstoppable force that infuses positive change in those around her.  Her mission is that of developing and unleashing gifts in others.  She has worked with thousands of young people and adults to transform their lives whether working as a corporate executive, a wellness coach or as a teacher and youth minister.
As a competitive athlete and fitness professional for years, Marie understands commitment and dedication. She has trained, coached, and inspired others to identify and work diligently toward a goal regardless of the outcome. She advocates that leading from the heart requires a balance of a healthy mind, body, and spirit.
Witnessing the empowerment and success of others is what truly lights her fire!
Marie believes there is a leader within everyone.  Through actions, words, or works, a servant leader, is shaped by their experiences.  By recognizing and using these experiences, she encourages and inspires individuals to untether their limiting beliefs.  You never know when you will be called to become a servant leader for an hour, a day, or a lifetime! By meeting individuals, young or old, right where they are, she prepares them to unleash their inner leader.
She sees the unique gifts and goodness within the people she works with even when they fail to see those attributes in themselves. She listens intently, collaborates with others to identify their next best step, and then encourages them to act.
Inspiring hope, compassion and purpose in young people, Marie motivates and encourages young adults to believe in themselves and get in touch with the leader that lies within. She wants young people to find their authenticity and be disciples in this world, emerging into servant leader. Marie encourages and instructs teens about holding on to their values and convictions and being clear on how they want to show up in the world.    
SPIRITUALLY ROOTED
Marie knows that her ability to lead and display heartfelt concern for others isn't something she's doing alone. Her life is spiritually rooted, moving from a strong, faith-filled space with God in the driver's seat. She puts genuine concern for another's potential at the forefront of her work and is driven to help others live with joy by sharing their gifts.  She helps others answer the question of "who is God asking me to inspire and serve today?"
With a servant's heart, Marie believes we are conduits to living out faith, hope and charity in all aspects of our life.  She has led mission trips, created corporate give-back events, and instituted gratitude projects in her community.
Marie is a spiritual director.  She listens and walks with others as they attempt to deepen their relationship with God. She is a companion on their faith journey.
Whether Marie is training one-on-one or addressing a large group, she is thorough, organized and articulate. She is a gifted and dynamic speaker whose unmistakable passion to empower people to live well is always evident. She has an enthusiasm forlife, health, wellness and spiritual wholeness that is contagiousand effective in motivating others to action.
AUTHOR EVENT
Join author and speaker Marie Mozzie for a light-hearted, interactive gathering as she shares stories, tips, and takeaways from her new book. Creating connection is essential for both parents and kids. Simple but powerful messages can encourage and help create resiliency for our kids in this wobbly world.
SEPTEMBER 27, 2023