We all have potential to be leaders.
Effective leaders improve communication, innovation and productivity by encouraging idea sharing and stimulating interaction
They make meaningful connections and lead from the heart.

— The Joy of Servant Motherhood - One Mom's Journey —
Parents are their child's first leader. Help your children make meaningful connections with friends, family and community.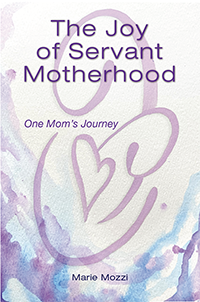 I found so much to relate to in The Joy of Servant Motherhood. So many memories came flooding back to me! This book is filled with tons of practical wisdom and advice for mothers. Pretty sure fathers will gain a lot of insight as well! A great reminder that when we learn to serve, we truly live well.

CONNECT WITH YOUR FAITH — An invitation to Spiritual Direction—
Spiritual direction focuses on your spiritual life, your walk with God.
What is God doing in my life? What is stirring in my soul?
This is an opportunity to deepen your relationship with God and become more attentive to God's presence.
Your spiritual director doesn't fix problems or provide solutions.
Your spiritual director walks with you on your spiritual journey serving as a conduit, available to listen and deepen your connection with God.
Sessions are of course confidential.
Marie Mozzi has completed Divine Mercy University's two-year program to become a spiritual director and invites you to experience the positive effects spiritual direction can have in your life.

— CONNECTING Women TO Leadership—
Every generation and every moment in time has its unique challenges.
Today's challenges require a more inclusive heart centered idea of what leaders look like and how they act.
Women have been steadily gaining momentum in leadership positions over the past fifty years but there is still a long way to go because many women continue to feel unprepared and unworthy to lead.
As a successful business leader who has served in management positions at some of the most prestigious organizations in the hospitality industry, Marie knows what it takes to encourage and develop leadership skills in women.

Young people are notoriously optimistic, anxious for change and often willing to lead but may not know how.
Is a traditional leadership model effect today?
Let's encourage young people to make more meaningful connections.
Let's develop more heart centered service oriented future leaders.
As a competitive athlete, former high school teacher, youth minister and successful business leader, Marie is passionate and uniquely prepared to prepare today's youth to accept leadership positions.

— Preparing to Lead from the Heart —
We are all called to lead at different times in different ways. Marie has customized one-on-one and group programs for
Business Managers*, Women Leaders, Youth Leaders*, and Athletes*.
Marie utilizes concepts of Servant Leadership that empowers your team, increasing productivity and encouraging collaboration. 
New times call for new thinking. 

"Whoever wants to be a leader among you must be your servant." Matthew 20:26