Marie is a passionate presenter, with an actionable and motivating message.
AS A SERVANT LEADERSHIP SPEAKER & trainer
She shares personal real world experiences that motivates audiences to take action in their own lives.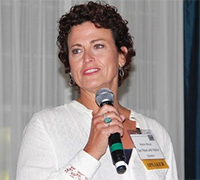 Through genuine heartfelt stories and entertaining activities Marie connects personally with her audiences, inspiring new ways of thinking and encouraging a willingness to change. For more than 25 years speaking to young people and adults, in large corporate settings, small groups and church communities, attendees say she "heals through her words."
VIRTUAL PRESENTATIONS
Marie's virtual presentations provide the same inspiring content in a very effective, new and dynamic way. Rather than shy away from scheduling your next keynote or group presentation, consider the benefits of virtual! You can have more flexibility regarding how and when you offer the inspiration and training you need. Marie engages with her virtual audience in the same dynamic fashion as her in-person events plus the added option of a personal face-to-face interaction that provides a unique personalized opportunity. Take advantage of Marie's expertise now and empower your leadership team to make a difference.
WISDOM shared from HER EXPERIENCE
As a business professional, entrepreneur, coach, wellness professional, youth minister and mom, Marie is ready and prepared to apply her leadership skills and experience to various challenges and diverse groups.
She has facilitated trainings and provided keynote addresses, workshops through in-person and virtual events for audiences of all types and sizes.
Who should consider a presentation?
Business teams
Women and youth organizations
Wellness professionals
Teachers and students
Church organizations
Youth leadership
"The impression and the positive impact Marie created for the entire school is immeasurable. Her dedication and commitment to our entire school family has provided a significant legacy. Marie is that unique and rare individual who can make a significant positive difference for every individual she comes in contact with-her enthusiasm is contagious. Personally, I know my life has been enriched by my association with Marie."