Our entire being is sacred, created by God.
FOR WOMEN OF FAITH
Where do we find God? Sometimes we wonder. God is everywhere and life experiences, maturity and roads we travel expand our knowledge of God. Our faith becomes a journey toward the "God experience", witnessing and engaging in venues that show us mercy, grace and a deeper appreciation of our experiences. We begin to see a universe that beholds and manifests love and unity beyond our comprehension. But we have to reach, remain open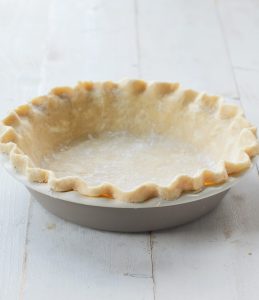 Who doesn't love a good pie? My preference when it comes to pie, is to choose a fresh fruit pie, with fresh blueberry pie being my favorite. Apple, peach and cherry fall right in line as being a few of my other favorites. Its hard to turn down a piece of warm, homemade apple pie at any occasion.
I remember one of my first jobs as a teenager was working in a steakhouse. This restaurant was a higher-end cafeteria-style eatery. At the arrival point, you pick up your tray and order your meal. Then traveling down the line, you were served a freshly tossed salad and beverage. Next, you descended on the dessert shelves that held cakes, brownies, and freshly baked fruit pies.
The early morning prep shift at the restaurant involved preparing the salad stations and cutting all fresh desserts for the day. This included cakes and pies. I didn't mind working that shift. Not only did I like the earlier time of day, but more importantly it meant the chance to eat any remnants of cut and plated desserts. This meant broken pies pieces as well. The pies would come out of the oven, freshly baked, and await being cut on a cooling rack. Once we got the go-ahead, it meant taking each of the pies, apple, blueberry, and cherry, cutting them, and plating them to be racked and ready to serve in our dessert area. Some mishaps with the pies, like broken crust or cracked pie tops, were deemed unacceptable to serve. This meant a chance to eat leftovers of freshly baked fruit pie. How could I think about throwing those away? I'm grateful I was playing sports then, or I may have tipped the scales in the wrong direction. If you add up a broken corner here and a bit there, it was a lot of pie. It was a sad day when I left that job and headed to college. No more of my favorite fruit pies.
Many of my followers know I love to bake. Baking cookies and loaves of bread and experimenting with healthy nutritional good tasting dessert options is where I spend most of my time in the kitchen. But I do like to create three-layer cakes for special events and birthdays, and make a pie for holidays, as a request, or if a special occasion calls for it.
In Kate's early years, we spent lots of time baking and frosting cookies in the kitchen. Once in a great while, we would make a pie. I was often unhappy with the outcome of a pie crust. It was part of the baking process that I dreaded. It just never came out right. When cooked, it was either too thick, flaky, or solid enough to support the pie's contents. We picked apples from the orchard, blueberries from local farms and fresh local peaches off the trees. Making pies with these fresh fruits was a must but I just had to get the crust right. I tried different pie crust recipes, but I never found a winning pie crust recipe. That was enough to wean me away from being a pie maker.
One Thanksgiving, Kate volunteered to make the apple pie for dessert. It was delicious, and the crust was out of this world. Of course, I begged her to hand over trade secrets, and she agreed. The recipe is from The Sensible Mom. Credit to Sandra, who shared this recipe on her site at www.thesensiblemom.com. Since Kate shared this recipe, and I have been using it ever since. I must tell you it has repositioned my attitude about making pies.
Nothing fat-free or health-conscious about this crust, but if you indulge in a piece of pie, you must have a great one. This is a number one, game-changing, crowd-pleasing crust. Check out the recipe and go ahead and make your favorite pie. This crust aims to please, and from our guests' feedback –it's a winner.
Double Pie Crust
Ingredients
2-1/2 cups flour
2-1/2 tablespoons sugar
1 teaspoon fine sea salt
8 tablespoons vegetable shortening, well chilled (I put the shortening in the freezer for at least 15 to 20 minutes before using it in this recipe.)
12 tablespoons unsalted butter, well chilled and cut into 1-inch pieces (I put the butter into the freezer for at least 15 to 20 minutes before using it in this recipe.)
5 to 6 tablespoons ice water
Instructions
In a large bowl, whisk together the flour, sugar, and sea salt.
Scatter the vegetable shortening over the flour mixture and using either two butter knives or your hands, incorporate the shortening. Afterwards, the mixture will resemble coarse sand.
Scatter the butter over the coarse flour mixture using the same method you used with the vegetable shortening. (I actually used a combination of both methods for incorporating the butter.)
Sprinkle ice water over the dough one tablespoon at a time. Press the dough together with a spatula after each tablespoon. Stop adding ice water once the dough has come together.
Divide the dough evenly, so that it's in two pieces. Then flatten the dough and shape it into disks. Wrap the dough disks tightly with plastic wrap, and refrigerate them for 1 hour.
When you're ready to use the dough, remove it from the refrigerator and let it sit for approximately 10 minutes, so that it softens and is easier to roll out.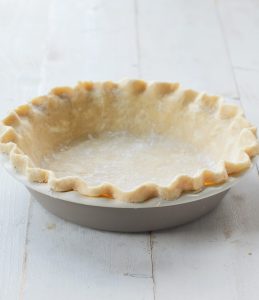 Who doesn't love a good pie? My preference when it comes to pie, is to choose a fresh fruit pie, with fresh blueberry pie being my favorite. Apple, peach and cherry fall right in line as being a few of my other favorites. Its hard to turn down a piece of warm, homemade apple pie
Read More »